Our loopa indoor localization system records movements of your goods along the processes and confirms them autonomously with loopa.Integration (formerly it.trackITADD) in your ERP-System warehouse management system.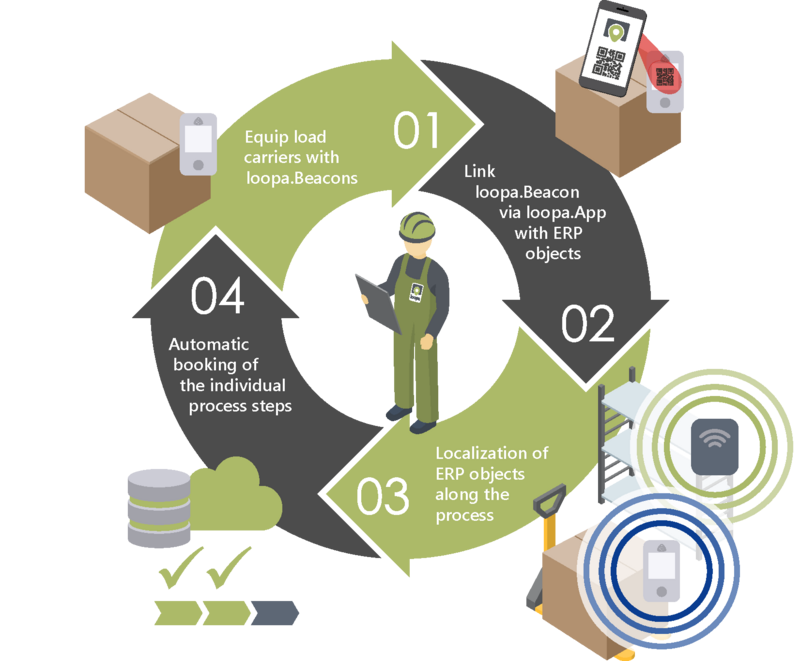 If you would like to learn more about how loopa works, take a look at our product video.
Additional benefits and features
Management Dashboard - Location & Status

List of filled load carriers incl. contents list
List of free carriers
Visualization of information on the shopfloor (where, what, status)

Management Dashboard - Statistics & Analytics

Analysis of production utilization
Statistics on picking & holding time per storage location
Analysis of equipment and load carriers

Production control / Production data acquisition / Inventory qualification

Automatic recording of the order progress
Marking of production quality
Status of the production orders

Events & Automation

Definition of areas, capacities and restriction for goods
Idle time monitoring and alarms
Carrier management & triggers for pick-up (e.g. Kanban)

Identification & Monitoring

Equipment identification via UUID broadcast or scanning
Equipment status, operating times, availability, due date

Navigation

Employee navigation in the warehouse & production
Material provision with loopa
Are you ready to optimize your processes?
Scheidt & Bachmann is a complete systems solution provider that develops, produces and implements integrated solutions around the topic of mobility. Customized service, hosting and comprehensive operator models are among the company's core competencies. With our IoT Solutions division, we are using these competencies to break new ground for smart logistics.
NTT DATA Business solutions is part of the NTT DATA Group and specialized on value-adding ERP solutions for their worldwide customers. We design innovative projects and support our customers as long-term partners on their way to digital transformation and thus lay the foundation for mutual growth and success.
Career at Scheidt & Bachmann IoT Solutions
Our employees make our family business successful. You can become a part of this family too!